3 Awesome Reasons To Use A Mortgage Broker And Not The Bank
Posted on 8 May 2017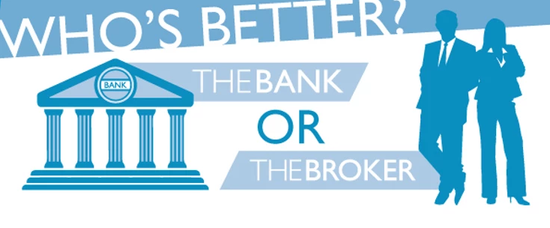 One of the questions I get most frequently is "why use a broker, why not just go to a bank?"
When I got my first mortgage about 18 years ago, I went straight to my bank and filled out an application. I didn't even know that mortgage brokers existed. I accepted whatever rate the bank offered and bought my first condo. Looking back, I had no idea what mortgage options were available or what rates other lenders were offering.
The mortgage industry has come a long way in 18 years. Here is why I will always use a mortgage broker:
1. The broker works for you. The bank doesn't. Not much more needs to be said. Banks typically are trying to sell you multiple bank products whether you need them or not. Brokers are focused on one product, getting you the best mortgage for your needs.
2. Brokers have access to over 50 different lending institutions, including major banks, credit unions, trusts, and other significant national and regional lenders. All of these lenders are competing to get your business. A broker's job is to find the lender and product that best meets your needs. A bank has just one lender to choose from, itself. Further, several banks work with brokers and offers the broker better interest rates than the posted rates. Even if you want to have your mortgage with your bank, a broker can often get you a better deal with that same bank. Wow!
3. The broker is a trusted relationship that should last a life time. A good broker gives honest advice and gets you the best deal for your needs. A bank employee comes and goes. The bank person you talk with for your first mortgage may not be the same person you talk with for your second or third mortgage. A good broker will be with you for life. Yes, for life. I will love you that much.
Fun Fact: Approximately 30% of mortgages in Canada are done by mortgage brokers. 50% of first time home buyers use a mortgage broker. Brokers truly have a competitive advantage and are no longer a lender of last resort.

To learn more about the mortgage products that are available, start a conversation with Sean today.
#General